It's a $200 million project that could have cost far less. Find out how generative design reduces costs for Australian developers.
It all started with a proposal.
The minds behind the project wanted to build four towers that would become the largest in Bankstown. Located in the Compass Centre at 62 The Mall and 83-99 North Terrace, they would become a highlight of the city's civic district.
The initial proposal included plans for buildings that would range from 19 storeys up to 24. And the buildings themselves would see a mix of residential and commercial use.
But the project had issues from the start.
For one, Bankstown had a regulation in place that limited buildings to 53m in height. The proposed towers would stretch up to 83m, creating a problem for the developers.
Still, they pushed ahead.
The developers eventually received approval for the project in October 2018. At the time, Bankstown's mayor said:
"This is an old derelict building which needs to be developed. For me it's a no-brainer, it is not overdevelopment… if people want to invest here, you need to support the proposal."
It seemed like the developers had everything that they needed.
But what they didn't see coming was the true cost associated with the project.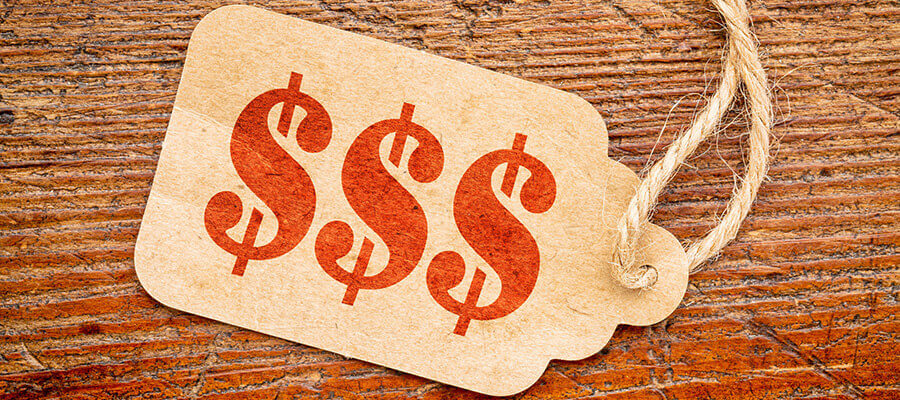 The $200 Million Price Tag
As work began on the project, the media attention intensified. Journalists wanted to talk to the developer who intended to bring this region-boosting set of buildings to Bankstown.
And it is in one media report that we see the true cost of the project.
According to The Daily Telegraph:
"A developer who is trying to create the four tallest high-rise buildings Bankstown has ever seen has revealed the cost of the total project would top $200 million."
Of course, many of these costs relate to the construction of the buildings. But we can also think back to the issues that the developers had with achieving project approval. From the beginning, the project went against the local council's guidelines for building heights. This led to a period of negotiation and redrafting that proved costly in the early stages.
Furthermore, this redrafting required more design work.
The developers manually created design proposals until they finally achieved approval. That comes with costs related to coming up with concepts, ensuring they're compliant, and creating final design drafts.
This all took place between 2017 and 2018, before Archistar was available. Unfortunately, the developers had to absorb these large costs to make the project a reality.
Archistar's generative design engine could have saved them a large amount of money.
Archistar's Generative Design Engine at Work
The Archistar team decided to run an experiment for the Bankstown project. Using the platform's generative design engine, we wanted to see if we could automate design concepts that matched those submitted.
First, let's take a look at the images of the approved proposal: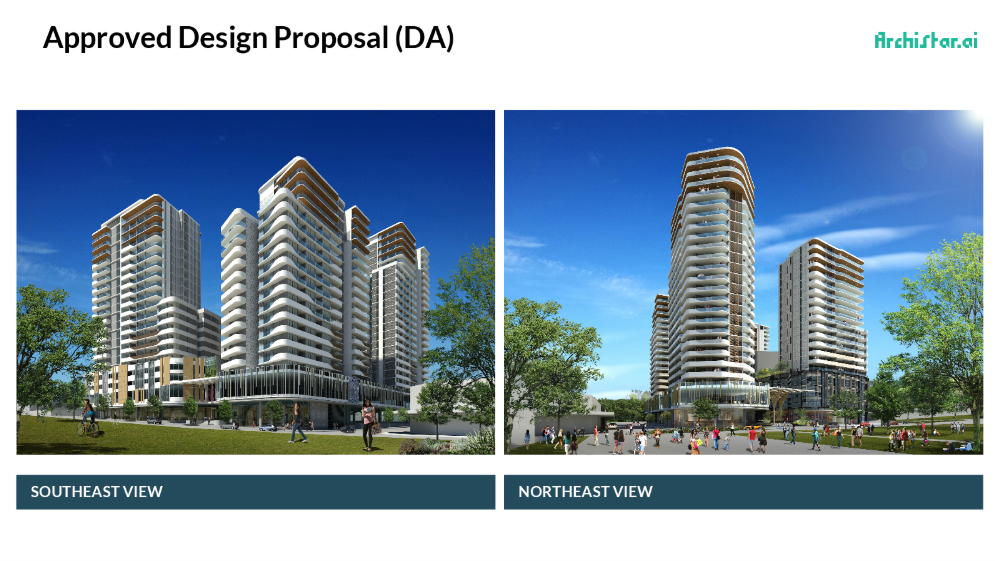 Note that these are more developed than concept images. Still, they provide us with a good overview of what the Bankstown project will look like.
From here, we inputted all relevant criteria into Archistar's generative design engine. Archistar also automatically uses council guidelines so that it only creates compliant designs.
These were the results: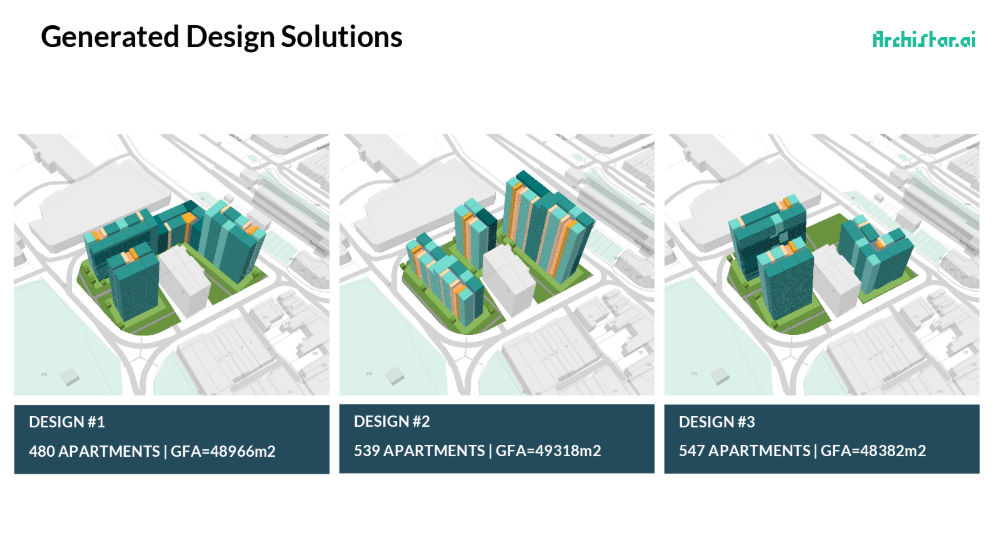 Immediately, we can see similarities between Design #1 and the accepted design. The other two designs offer some interesting variations on the original concept too. Design #3 is particularly interesting, as it even leaves space for some green areas.
Each of these generated designs complies with both the local council's and the developer's requirements.
However, you may wonder why we created them in the first place. Our intention here is to demonstrate the many benefits of generative design when compared to traditional design.
Among these are:
Benefit #1 – Increased Productivity
It took over one year for the Bankstown building developers to take their design from concept to approval. During that time, they manually created many concepts, each of which added to the time required.
This manual work creates several issues for the project's architects.
They have to spend a lot of time coming up with concepts and checking them against constraints. Furthermore, they have to keep coming up with concepts until the developer approves one for further design.
It's a time-consuming process that can take several months.
But with Archistar's generative design engine, it takes far less time. The engine can produce hundreds of concept designs in a matter of hours. Additionally, each of these designs meets all relevant constraints.
Benefit #2 – Lower Costs
It's no surprise that increased productivity leads to lower costs.
For the architect, these costs relate to research and manual design work. With Archistar, much of this gets handled automatically, which allows the architect to focus on other work.
The developer enjoys lower costs too.
Having a more productive architect means the developer can move their project forward with fewer delays. They also don't need to pay for manual concept designs, as the generative design engine handles it for them. Finally, there are reductions in costs related to research to consider.
Benefit #3 – Increased Creativity
What's interesting about generative design is that it often comes up with unique concepts. Take Design #3 above as an example. That's likely a design that an architect wouldn't consider until they see it in front of them.
Archistar's generative design engine can help an architect to get their creative juices flowing. It provides concepts for them to build on, rather than them having to develop these concepts on their own.
Consider Using Archistar
We believe that the Bankstown project developers could have made great use of Archistar if they had it available to them at that time.
The generative design engine enhances productivity and reduces costs. And as our designs show, it can even come up with novel ideas for projects that meet all constraints.
Perhaps you could use Archistar in your own projects?
The generative design engine is just one of the many features that you will have access to with Archistar.
Get started for free: [https://www.archistar.ai/]