How to Finance Your Property Development Project (And the Four Tips to Optimise Your Application) 
To finance your property development project, you need a strong foundation. Creating a robust application is the way to go.
Property development comes with plenty of challenges. For starters, you need to learn about property development finance. 
Why?
If you're just starting out, chances are that you lack working capital. That means to get enough money for your venture, you'll need to rely on lenders. 
As you may already know, lenders are an essential part of any property development venture. In fact, lenders and developers share much of the same priorities – both look after time, trust, and terms to consolidate new deals. 
However, the two parties don't always cooperate efficiently. 
For instance, the developers often don't know much about what lenders look at when reviewing their applications. This is especially true for beginner developers. 
If you could use some advice on financing your property development project, stay tuned. In this article, you'll learn who lenders are and how to create a robust financing application. 
Banks vs. Alternative Lenders
Many developers first turn to banks for financing their projects. But in the saturated market that is property, banks have tightened their lending criteria over the past few years. 
Banks now have requirements for higher profit margins, equity amount, or pre-sales. That means if you're an inexperienced developer, much of your property purchase plan may remain inaccessible.
Fortunately, there are other financing options worth considering, and they include lenders. You can either go for traditional or private lenders when looking for financing.
But what's the difference between them? 
Traditional lenders offer up to 80% loan to value ratio when two dwelling projects are involved. For larger projects, the percentage goes up to 70%. You'll also have to provide a 20% to 30% deposit. And these lenders will typically want to check your credit history, payslips, and assets and liabilities. 
As for private lenders, they may offer up to 65% of the project's Gross Realised Value (GRV). This sum reflects the estimated completed value of your property development, excluding GST (Goods and Services Tax). On the flip side, private lenders often have higher fees and rates compared to traditional ones. 
Regardless of the type of lender you opt for, you should prepare your application in advance to increase your chances of being approved. Below are tips on how to do so.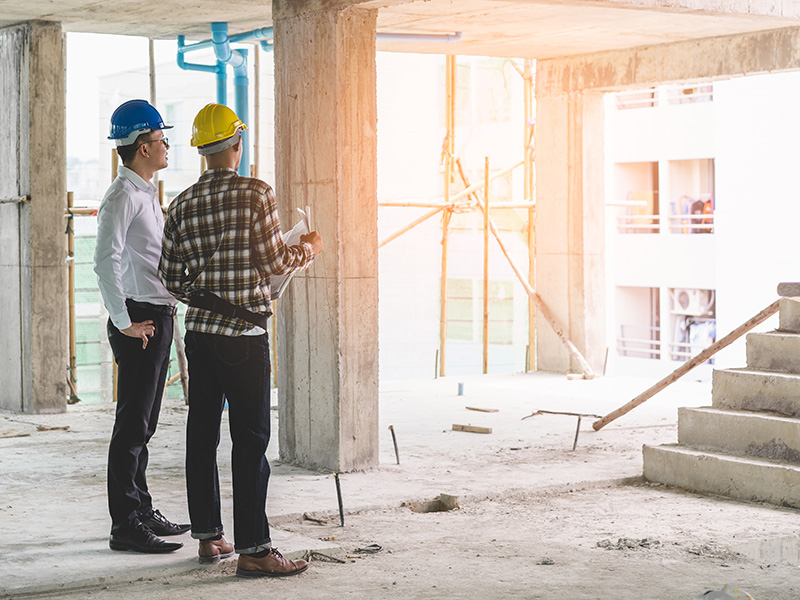 The Four Tips
Tip #1. Recognise Your Borrowing Capacity
To ask for a loan, you need to assess how much money you can borrow first. That's so you won't plan a project that's bigger than your budget. 
Now, your borrowing capacity will depend on the property development plan, feasibility of the project, and standard finance criteria assessments. And a lender will be happy to learn you're in a stable financial situation before they give you the loan. 
Tip #2. Create a Feasibility Study
Once you get all the crucial factors sorted out, you'll have an easier time determining your borrowing capacity. And creating a feasibility study before applying for a loan is the way to go. 
Take note that you'll want to have a well-prepared feasibility study. In it, you'll show the potential lender you have all parts of your property development plan consolidated.
The lender must know you have correctly calculated the construction costs compared to the potential ROI because that's your profit margin. And without a decent profit margin, lenders will be hesitant on whether to give you a loan. 
Here's what costs you should include in the feasibility study:
Permit and development applications – These vary among local governments. 

Building expenses – These include all the hard costs like wholesale materials, contractor costs, builder fees, upgrades, or variations.

Sales costs – The costs related to sales include stamp duty, conveyancing fees, and sales agent expenses. 

Overruns – These are blowouts in costs. You want to show the lender you have a buffer in your financial plan in case the project gets delayed or costs more than planned. 
Ideally, banks and lenders look for 20% to 35% profit margins. If you struggle to meet these criteria, you're highly unlikely to have the application approved. 
Tip #3. Present a Detailed Finance Submission
To make the most out of your loan application, you should put together a finance submission. This is like your business plan. And with it, you let the lender know you're able to create a viable property development project where all the numbers stack up. 
Development finance loans require detailed applications. Usually, these files start with an executive summary where you point out the project viability and its design features. 
Then, you include the following points:
Site description

Design concept

Zoning

Property manager and other consultant resumes

Feasibility study

Costings

Projected sales figures

Timelines

Net result

Timeliness
The more details and realistic numbers you include in your feasibility study, the better your chances of getting that finance. 
Tip #4. Clear the Credit File
Lenders perform plenty of credit checks before deciding to finance a property developer. That said, most lenders don't approve loans to developers who have defaults in their credit file. Also, a significant number of enquiries in a short time frame is a red flag. 
So, if your credit file is patchy, you should tidy it up before applying for a loan. 
The good thing is you don't have to hire a credit repair agency to do so. You can find enough information online on how to clean your credit file and remove the defaults. 
Note that if a lender still offers you a loan even when your credit score is patchy, you'll have to pay a higher interest rate than usual. 
Property Development Finance Starts From the Application
As the property market gets oversaturated, it's becoming more challenging for developers to get loans. The banks are tightening their criteria and the lenders are requiring more comprehensive applications and credit checks. 
When looking for lenders for your next property development venture, start by creating a robust application. Calculate your borrowing capacity and come up with a detailed finance submission, including a feasibility study. 
Once the lenders see you're a trustworthy player, you'll be a step closer to getting that loan. 
With Archistar, you can use our layers and filters to help pinpoint profitable opportunities. Quickly assess your sites in bulk with our Quick Estimate tool. You can generate a 1-Click due diligence report providing you with all the information needed about a site. This will help you get the approval required to pursue your development opportunity.
Get started for free: [https://www.archistar.ai/]