New prop-tech tool allows new sites to be assessed for building suitability in a matter of minutes
SYDNEY, AUGUST 13 2021: Property developers are set to be able to assess new Australian building sites in minutes following the launch of a new tool from leading property intelligence platform Archistar.
Rapid Assess is a first of its kind revolutionary new tool, allowing property developers to screen hundreds of potential development sites in a matter of minutes, at least 20 times faster than traditional methods. It also allows users to instantly configure dwellings onto a possible site, with the ability to check for compliance, including whether it meets cross-ventilation and solar accessibility requirements, and then assess their projected return on investment.
Archistar is taking a meaningful step from the traditional all in one stop shop towards streamlining the process of the property developers and guiding them through the process of finding the best sites for their appetite with more hand holding.
"The new and improved Rapid Assess tool is a game changer for those looking to build a new development," Archistar chief executive Dr Benjamin Coorey said.
"The tool allows developers to assess development opportunities, while minimising risk and maximising profits and efficiency. It has the potential to save architects from having to draft several scenarios for different plots of land, while saving developers massive amounts of time by narrowing the options down faster."
"Faster decision making has a big flow on effect. The quicker that potential developments are put before decision makers, the faster construction can begin and the end user, the home buyer, can move in."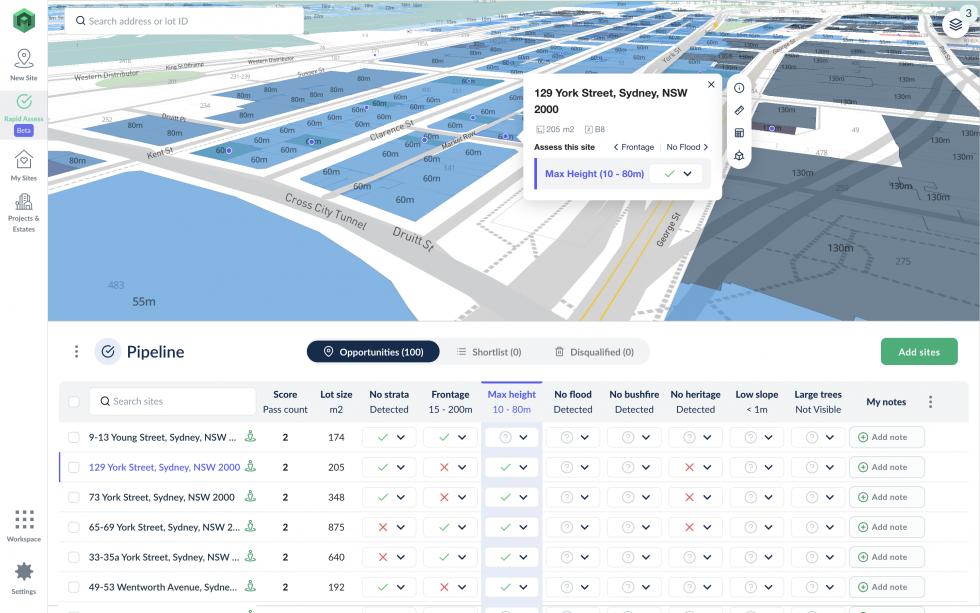 Archistar has seen significant growth on its platform in the last financial year, with 9.2 billion hectares of land explored on its map and 732,000 sites reviewed in the period. 33,500 designs were generated using Archistar's tool through the 2021 financial year.
Earlier this year, Archistar secured $6 million in a fully-subscribed funding round to support the rapid growth of it's expert teams and key partnerships internationally. The capital raise included a $3.2 million investment from lead investor Skip Capital.
Since launching in 2018, Archistar has grown significantly, recently signing contracts with the NSW and Victorian governments, as well as leading developers like Brookfield, Central Equity and Renewal SA.
The company is gaining traction in the government sector and with leading home builders. Notable partners include the NSW Government, Victorian Government, Aurecon, Domain.com.au, Stockland, Ray White, JLL, Century 21 and Raine & Horne.
About Archistar:
Founded by brothers Dr. Benjamin Coorey and Robert Coorey, Archistar is the world's leading Generative Design platform for the Property Industry. The Australian property platform combines architectural design with artificial intelligence to inform decision-making in property and is used by agents, developers, architects, government planners and home builders nationwide.