For more than 70 years, artificial intelligence has been reshaping the way industries work. Real estate is also a part of this AI revolution. Discover how AI has transformed the work of real estate professionals. 
There's no doubt about it – Artificial Intelligence is becoming a serious trend on a global scale. We can define the term as a type of technology that's able to draw logical conclusions by itself. To achieve this, AI heavily relies on the use of complex algorithms and predictive analytics. 
Its inception dates back to the 1950s and machine learning technology has been developing at the speed of light. 
To adapt to the new, enhanced working environment, property developers and other real estate professionals need to learn more about how they can benefit from AI. 
And in this article, we'll explain how exactly AI is empowering real estate and how it affects property developers. 
How is AI Empowering Real Estate?
Artificial Intelligence made it to the real estate industry in the 1980s. And it has slowly been reshaping the way the industry operates since then. 
Below are four ways machine learning empowers real estate. 
#1 – Enabling Better Lead Generation
Lead generation is an essential part of every well-planned marketing strategy in any industry, including real estate. And this involves initiating customer interest in one's products or services. 
Hundreds of apps, chatbots, and machine-learning interfaces already help many online businesses collect consumer data and boost lead generation. Chatbots. in particular, have a remarkably beneficial role when it comes to lead generation. 
Let's say real estate professionals are running a social media ad targeting millennials for a brand-new house listing in a specific area. One way to do the marketing is to set up a Facebook ad to lead people to their website, letting them collect customer emails and other info. 
But with a chatbot, users can end up in a Messenger chat right after they click on the ad, allowing them to ask whatever questions they may have. And once they start the conversation, they may become subscribed to a newsletter and will receive news from the business going forward. The chatbot can also answer questions regarding the price range, property type, location, etc. It can also ask personalised questions to help qualify leads. 
Additionally, AI is excellent for analysing market data and recommending properties to brokers based on their sales records and needs. Developers can use natural language processing (NLP) algorithms to understand the needs of the customers from particular zip code areas or learn what makes a property unique. Finally, by analysing customer interaction, real estate professionals can enhance their customer service analytics. 
Overall, AI can do wonders for attracting customers and boosting marketing. In fact, mastering the essential AI software for these tasks should be a priority for all business owners regardless of the industry. 
#2 – Finance and Loan Modelling
Financial modelling and data entry usually include dull, repetitive tasks. Thanks to AI and its extraction and classification technology, real estate professionals can automate these tasks to help them save time on property analysis, minimise errors, and become more productive overall. 
Whether someone's running a property development business on their own or with employees, everyone will benefit from freeing their time in performing tasks. Business owners can shift this extra time towards more creative activities. 
Also, AI is known for its pattern recognition abilities. This helpful tool can help predict risks and serves well in manual property appraisals. It considers factors such as:
Transportation system statistics

Infrastructure improvements

Environmental changes

Monthly or yearly sunlight hours of a property

Local school ratings

Information on the neighbourhood's dining scene, recreation, entertainment, etc. 

Availability of parking spaces

All other amenities impacting the value of a property
Such information gives property developers great insights into the property they plan on developing, which they can later use as part of their marketing in the selling process. 
Ultimately, AI reshapes the way transactions work as well. Real estate professionals now have a more straightforward time running their businesses. For example, a bunch of CRM systems will use machine learning for auto-fillable data and generate automatic payment reports. This minimises the amount of time spent in front of a computer and reduces the risk of error when dealing with transactions. 
#3 – Property Market Predictions
As already mentioned, AI can analyse patterns in large data sets. This tool can help developers make predictions of the future market value of a particular property. For example, the AI algorithm combines today's market data from the marketplace and CRM, but it also considers available public information about the property (like those from the list above). 
In general, there's virtually no limit to the amount of data AI can process and no human could ever do market analysis as thorough as intelligent software. For that reason, the number of property attributes and market data points that can be analysed can go well beyond tens of thousands.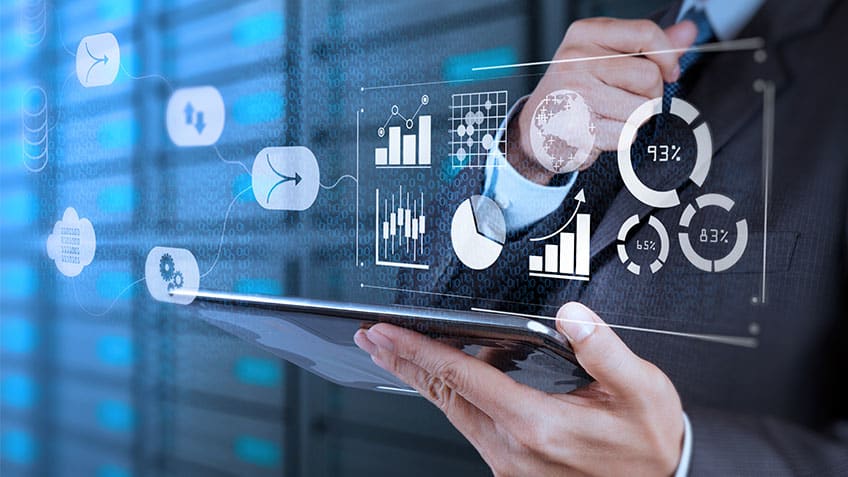 #4 – Better Data Management
Property developers are often confronted with many datasets, including lease abstractions, legal papers, property appraisals, offering memorandums, history records, zoning regulations, and whatnot. 
The growing amount of data makes it hard to keep track of every piece of information. But with AI, developers can classify and store these documents and even get notified when new appraisals are due or when a property becomes popular. 
Plus, the search function enabled by machine learning makes data searching more straightforward than ever. It also makes data analysis more systematic by pre-processing or tagging valuable meta-data for property documents. 
AI – More than Just a Buzzword
Artificial Intelligence is slowly proving to be an incredibly robust tool that reshapes the way industries work. 
Real estate professionals, including property developers, can benefit from it in numerous ways: it helps with their marketing lead generation, optimises their financial and loan modelling, allows them to make more specific market predictions, and boosts data management.
With Archistar, you can gain a competitive edge and unlock innovation with world-leading data and AI. Generate concept building designs using our world-first parametric design generator which is powered by AI. Run instant design analytics to show the impact of your building designs in the context of the neighbouring buildings, including the impact on solar accessibility, ground shadows, building separation and cross-ventilation. Use the Archistar platform to augment your workflow with the ability to Export/Import to and from Rhino, and access to 1-Click development due diligence reports.
If you're interested, you can schedule a demonstration with the Archistar team by clicking on this link.