The Seven Types of Property Title (And How Developers Can Access Information About a Property's Title)
Purchasing a property includes many steps, and researching its title is one of the most crucial. Read on to learn about the property titles available and how to access them by state.
A property title represents a legal document with specifics about a property. Some key information includes ownership details, easements, mortgages, covenants, caveats, and similar. 
For this reason, buying a new home is often impossible without proper title search completion. This process is essential to ensure there are no surprises with the site. 
Understanding a property's title is crucial for developers as well. 
Why?
Because they need to know everything about the property before making a financial commitment.
This article will describe the seven types of properties and provide helpful information on how developers can access the information they need regarding each title. 
The Seven Types of Property Title
No property purchase can be successful without knowing the ins and outs of the site. Fortunately, most of the information that property developers need can be found inside the property title.
There are currently seven property title types in Australia: 
Type #1 – Torrens Title
Established in NSW in 1863, the Torrens title is the most common property title for land buyers in Australia. Most property developers are familiar with this property type but may not know its actual name. 
Under this title, a person becomes the owner of both the land and the property that sits on it. When a person purchases this property title, their name appears on the Certificate of Title, showing them as complete landowners. 
Most of Australia's residential and commercial properties fall under this category.
Type #2 – Limited Torrens Title
Due to a lack of adequate surveys, specific Torrens title properties don't have clear boundaries. Property developers and other parties interested in purchasing these properties can have the boundaries investigated for free by the NSW Land Registry Services. 
Until the request is complete, the parcel will be labelled under a Limited title. After the procedure, it can be converted to a regular Torrens title.
Some Sydney suburbs (such as Newtown or Marrickville) still have properties on Limited titles. This label shouldn't have a significant impact on property purchases, however. There's just an additional boundary setup that needs to take place for the property to be able to undergo subdivision and other changes later on.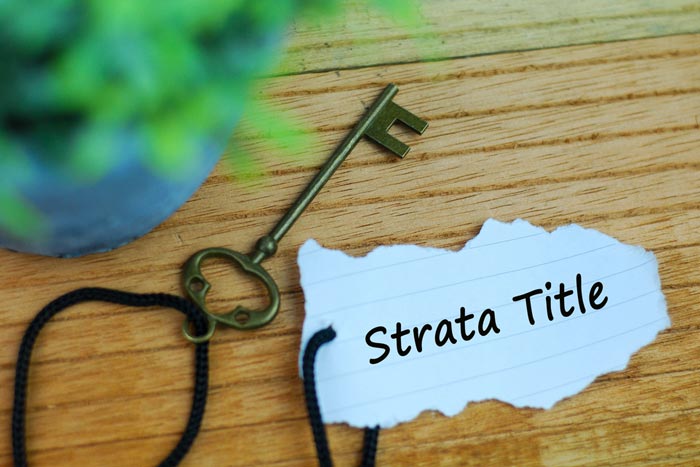 Type #3 – Strata Title
Strata title is prevalent for an apartment, retail shop, office, and townhouse ownership. 
This property title was first introduced in NSW in 1961 as a replacement for the previous title system. With this title, it means that people own an apartment inside a building and share the ownership of stairs, floors, hallways, swimming pools, and other shared spaces. It also includes the exterior area, such as the gardens or the exterior walls. 
The owners' corporation and a dedicated committee are in charge of managing the property and oversee maintenance issues, take care of building insurance and finances, laws, and more. 
These property types are often cheaper compared to the Torrens title. However, the owner pays quarterly fees to the strata scheme for covering area maintenance expenses. There could also be other occasional fees. 
Type #4 – Leasehold Title
Leaseholds usually apply to government-owned land. This land is leased to an individual rather than being sold. As a result, the potential buyer would become a lessee and not the outright property owner. 
However, these leasehold title properties are different from the standard rental leases typically found in investment properties. 
Leasehold agreements allow the lessee to lease the property for 99 years. The buyer doesn't pay for the property purchase but only invests in the initial cost to set up the agreement, followed by annual rental payments. 
These properties usually include cattle farms, wheat properties, churches, and so on. It's in the hands of the government to decide on land ownership. Also, it's worth noting that all Australian Capital Territory properties fall under leasehold titles. 
Type #5 – Company Title 
The company title is most often replaced by a strata title and is now less common in NSW. Still, it can be found in some Sydney areas, such as Surry Hills or Darlinghurst. 
Under this title, a company is the legal owner of the property. A homeowner can purchase a "share" in that company instead of owning the apartment title themselves. 
By owning a company's share, the person has the right to live inside the unit and they receive a Share Certificate (rather than the Certificate of Title). 
It's worth mentioning that the original developers determine the comparative value of the units and the share size will differ accordingly. Consequently, larger departments in better locations will cost more for their share group.
There can be good value for money under this title, but it's also more challenging to get a loan for a property with this type of title. Also, stakeholders often don't get a say on significant issues that affect their apartments. 
Type #6 – Community Title
Similar to the strata title, community title properties involve ongoing management payments, lot ownership, shared property space, and owners' corporations. The main difference, however, is in the management type. 
Under community title, property owners are usually in charge of maintaining the space. Also, it's the residence committee that manages the upkeep rather than the strata committee. 
Another important difference regards the facilities and services – the local council will often provide limited assistance. The community scheme manages the garbage collection, gardens, roads, etc. That's why community properties usually apply to larger developments and gated estates and are less common than the strata schemes. 
Type #7 – Old System Title
Until the Torrens title, all Australian property ownership used to be under the Old System title. This type of title dates back to 1788 when the English colonised NSW, bringing their own property ownership structure with them. 
This particular type is hard to find today, as the Real Property Act replaced these properties and turned them into Torrens titles. 
The Old System title also gives complete land and property ownership to the person owning the certificate. 
How Can You Access a Property's Title?
How developers access a property's title depends on the state. But often, they'll have to pay a small fee to get the necessary information. 
Here's how the process goes by state:
New South Wales
The NSW Department of Land and Property Information refers users to several approved portals to find property title-related information. Developers can access the titles at a range of prices. 
Some of the platforms include:
Morris Hayes and Edgar (MHE)

Direct Info

Hazlett's

Legalstream

Global X

SAI Global
Queensland
All property title information for the state of Queensland can be found on the Queensland Government website for $18.15. 
The information is available under the "Environment, land, and water" page, under the "Land, housing, and property" section. 
ACT
For ACT, all property title information is available through the Access Canberra website. 
However, it's impossible to conduct a property search on the site. Instead, developers should visit their local Office of Regulatory Services. They can also pay a visit to the Environment, Planning, and Land Shopfront. 
For those planning on conducting ongoing title searches, they can subscribe to a $220 online service.
Victoria
For property title information access, one can visit the state government-owned website called LANDATA. 
All information there is easy to find and the service costs $14. Developers can also ask for additional documents for an extra fee. 
Tasmania
The LIST website allows users to do a property title search for the Tasmanian region. 
The process is relatively straightforward as it involves registering for an account, paying a $30.60 fee, and searching the title on their platform.
South Australia
Title search in South Australia is done through the SALIS website. They allow guest searches, but creating an account is also welcome. 
Individual property search comes with a $27.75 fee. 
Western Australia
For Western Australia, the title search is possible via the Landgate website. 
Users will have to enter specific property details first and also pay a $24.85 fee. 
Northern Territory
There are no online title searches for the Northern Territory at this point. All interested parties should visit the land title office or request a phone search. 
However, there is an online portal for conveyancers and other professionals. But to get access to an Integrated Land Information System portal, users have to pay a monthly fee.
Understanding Different Property Titles 
Before investing in a property, it's essential for property developers to learn everything about the area. And the best way to learn about the ins and outs is to search its property title. 
Property titles carry all the necessary information about the owner and the land, and no purchase should be completed without thorough research of this document. 
The seven property titles listed above come with their own characteristics and are acquired and managed separately. Knowing how each one works will make a property developer's job much easier when making their purchases. 
If you need help with the property title search, Archistar's platform now also includes this feature. You can complete your property research and purchase land titles directly on the platform. 
Book a free demo today and see how Archistar can help you make the most out of property title searches for your next property development project.