Update on the Housing Targets in Sydney 
The housing market prices in Sydney rose in 2020 and 2021, which had a great impact on property developers. Will the trend continue in 2022? Find out below.
Various trends show that Sydney housing prices will remain dynamic for at least one to two years. They're expected to rise again in 2022 as the pandemic eases and more people move back to the city.
The low-interest rates and reopening of the borders for international travel will also allow the already hot market to breathe new life. At this point, not only have the house prices gone up but house rents have also surged. 
As the capital finally recovers from its numerous restrictions, there's no other direction for the house prices to go than up. Some analysts even predict a rise of 8% for 2022. 
This article offers a closer look at Sydney's housing market movements so you can better prepare your property development plans for the upcoming season. 
Median Property Price Change 
As Sydney recovers from the restrictions and lockdowns due to COVID-19, the property prices keep going in the upward direction. 
House prices went up 30.4% in 2020, with the median price being $1.36 million. This change in the price follows a peak-to-trough value fall of -2.9% between April and September 2020. 
However, it seems like things have started slowing down. The capital city's monthly growth rate has more than halved since March 2021, a month that experienced record highs. 
Meanwhile, dwelling prices had a monthly growth rate of 3.7%, which is the fastest surge Sydney has had in over three decades. While there was a bump in dwelling prices in November, it was just a modest dip from October when the dwelling value grew 1.5%, and the unit and house price growth slowed after reaching 1.6% and 1.2% in October. 
Property values have gone up 0.9% in November and are currently up 25.8% over the year. And the gross yield for sellers is 2.4%. As for the median dwelling value, it topped $1 million in June 2021 and has further gone up another $18,500 in November.
At the time of writing this article, an average Sydney house costs $1.36 million, while a unit is $837,000. The median house vs. unit value gap in Sydney now nears $500,000. 
On the other hand, a typical house in the capital city is $340,000 more expensive than at the start of the year, while units have gained $105,000 in value. 
The apartment market growth, meanwhile, has slowed. And the median prices per unit in 30% of suburbs is still going down. 
Policy Updates and Trends in Sydney's Housing Market
Several policies and trends impact the pricing in the housing market:
Developer contributions.

They have an inflationary effect on the housing prices, and infrastructure charges act as a "new housing tax". 

Prices grow faster than wages.

The Sydney house price has multiplied 17 times over 40 years, which is three times faster than the increase in the average income. In 1981, you could purchase a house in Sydney for $78,900, which was five times more than the full-time annual earnings. When compared to 2021 prices, the median house price costs $1.31 million, which is 14 times higher than the average income. 

Interest rates are going up.

The soaring property prices and sluggish wage growth overwhelms the low-interest rates we're experiencing, leading housing affordability to remain at its lowest level. With the median house price being $1.3 million, a typical household with a $135,000 annual income must spend over 45% of the income servicing the new mortgage. 
Also, auction bidder numbers have reached the lowest levels in the capital since November 2020, as more houses for sale now offer more choice to the buyers. In November 2021 alone, the auctions drew 6.5 bidders on average, but only 3.3 of them made offers. It is less than July 2021's peak of 4.5 active bidders and 9.4 registered ones. 
The rental vacancy rates remain steady and follow a decrease from October. The rates are at their lowest since May 2018, as they fell from 27% to 2.6% in November. As for the middle-ring suburbs, the vacancy rate fell -0.8%, while in the outer rings, there's a -0.4% decrease overall for the month of November. 
NSW Building Approvals
Construction is slowly recovering in Sydney after having suffered numerous lockdowns and restrictions. 
As per the ABS, the number of dwelling approvals has risen 23% year on year. The private housing approvals are now 42% higher than in summer 2019. 
NSW witnessed a new house approval drop of -13.9% in September, while there was a 27.2% increase in unit approvals.
Recent residential land reports also show a 27.1% increase in land prices in Sydney from June 2019 to June 2020. And we could expect a further rise over the next two years due to the high demand and low supply that inflate the value to more than 50% of the cost of building material. 
Australia's capital is the most expensive city in which to buy land in the country, as the prices have increased 11% in the June quarter.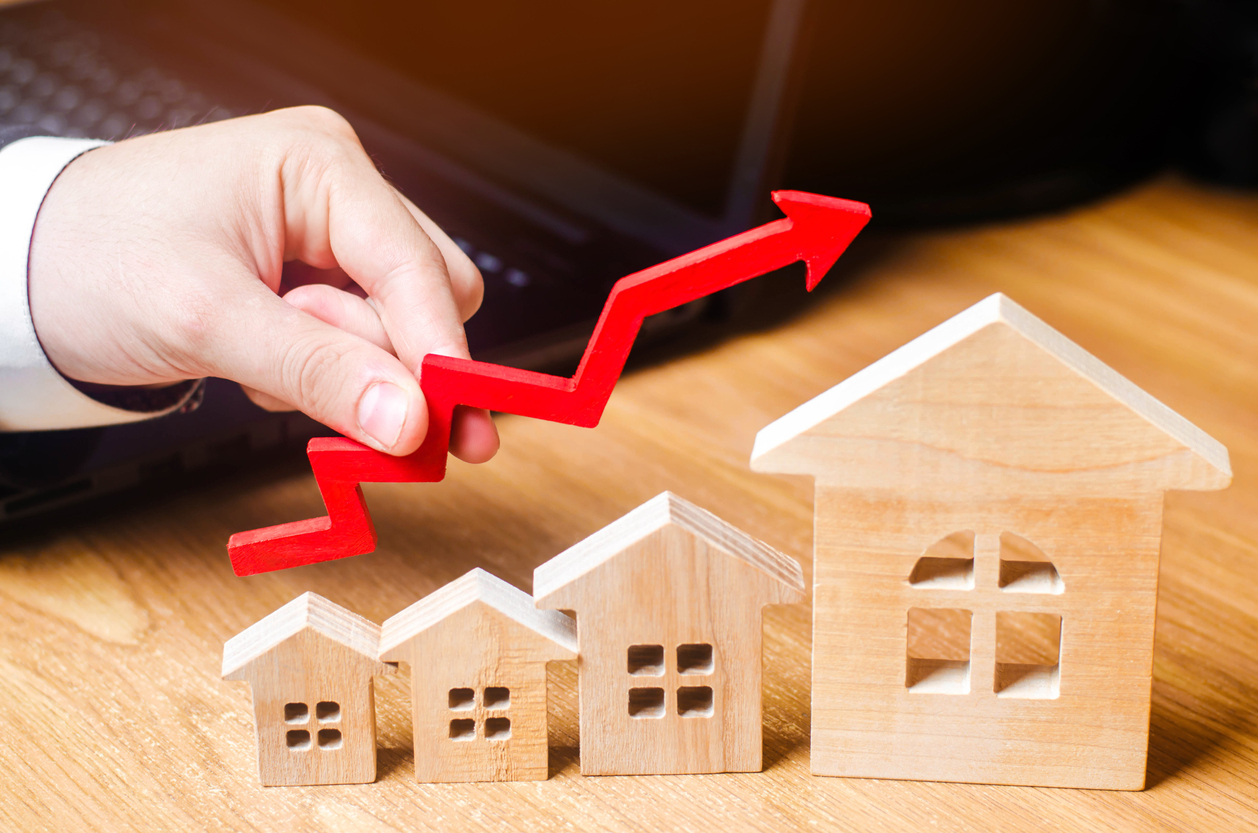 Housing Market Forecasts
The ANZ specialists forecast a 6% moderation in national property pricing in 2022, followed by a 4% drop in 2023. 
Meanwhile, the Commonwealth Bank updated the 2021 property price forecast after a surge in the pricing earlier this year that predicted a 10% increase for this and the following year. 
NAB predicts that house prices in the capital will rise 17.5% over 2021, while the Commbank predicted a 16% rise. 
Westpac's forecast for the house price growth for this year is 27%, 6% in 2022, and then we may experience a -6% drop in 2023.
The Hot Property Market Becomes Even Hotter 
Sydney's housing market is up and alive. 
After having suffered numerous restrictions, the housing prices are expected to hone new record highs in 2022, only to start dropping again in 2023. The developer contributions, rising interest rates, resuming of international travel, and the fast price growth, as opposed to stagnant wages all have an impact on the housing prices.
It can be challenging to find a suitable site for your property development in a market as dynamic as Sydney's. However, you're not alone, and we're here to help. 
Archistar allows you to gain a competitive advantage with all the research required in one platform. Discover profitable sites within a matter of minutes. You'll be able to make informed decisions with access to an array of data. 
You can test our software at www.archistar.ai.