The development of 3D technology has made many aspects of real estate easier and more accessible. Here's how the market as a whole, particularly home builders, can benefit from adopting 3D.
Presenting a new project with nothing more than words and imagination is a challenging task. People might find it hard to create a picture of the building in their minds without proper visual aid. Even concept images might not help. 
That's where 3D rendering comes in.
It's an excellent tool for showcasing upcoming projects with an unprecedented level of detail, second only to the real thing. The advantages are massive, especially when it comes to home builders, as buyers will get the full experience of their future home.
Leveraging the compelling presentations rendered in 3D will give anyone who uses the tech a head start in the market. For that reason, it's best to get acquainted with this solution as soon as possible.
In this article, we'll explain the core idea behind the technology and list five ways in which its users will benefit from incorporating 3D presentations in their listings.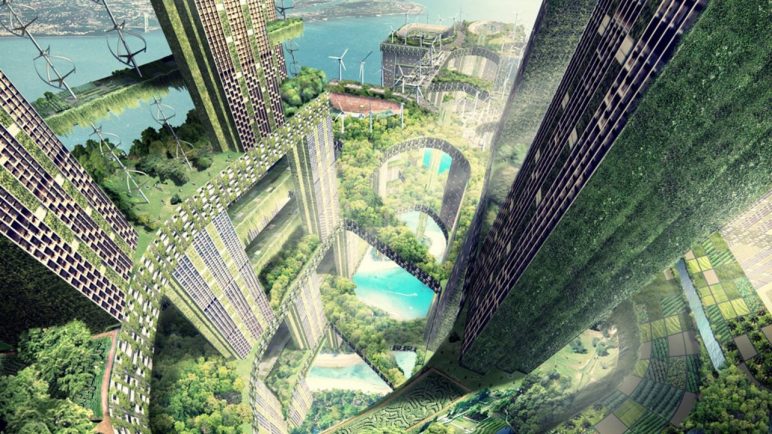 What Is 3D Rendering?
The technology for 3D real estate presentations is the same as used in 3D animation. It takes a 2D image and turns it into 3D through a digital wireframe model. Then, computer artists apply realistic colours, materials, and textures to the model, as well as proper lighting and the accompanying shading.
The result is a life-like representation of the object that can pass either as genuine or a very close approximation of the real-life structure, depending on the quality of the assets.
You can find impressive examples of 3D animation and rendering in the entertainment industry. Companies like Dreamworks and Pixar have been using the technology for years in their animated movies. Additionally, live-action films abound with 3D animation – they can sometimes be so seamless that most people don't even realise there are artificial digital objects in a scene.
Besides entertainment, 3D animation and rendering can be found in design, marketing, and a number of other industries. And the technology is now gaining a foothold in construction and real estate.
The Five Benefits of 3D Rendering
Benefit #1. Highlight the Most Prominent Features
Every buyer looking for their ideal home would be delighted to see the highlights of their future property beforehand. With 3D technology, they have the opportunity to do just that. Even better, the buyer can see the details of their home when construction hasn't even properly begun. 
Rendering the building in 3D will allow you to showcase every aspect of the home, from architectural and design solutions to flooring, lighting, and even home appliances. 
But the presentation can go several steps further.
If the development is not a single building but a complex or a gated community, a 3D render can show the most prominent features of the large-scale project. With it, potential buyers can see all of the development's amenities, such as kids' playgrounds, health and recreation centres, and security installations. 
Finally, the 3D presentation can show aspects of the surrounding area like schools, healthcare, entertainment, and shopping options.
Benefit #2. Straightforward Finalisation and Display of Luxuries
Construction projects, in most cases, don't get the final approval straight away. Instead, the process stretches into stages, with each one requiring new changes.
Here, computer rendering has a significant advantage in making the entire process more efficient. Clients and developers can easily access the designs, give their input, and apply changes while the project's still in the design stage. 
With detailed 3D project previews and the ease of sharing, finalisation will become much more straightforward.
In that regard, realistic displays of the luxurious features could create an incentive to speed up approval. Images will only go so far in justifying a heftier price, but a 3D representation will make those premium features palpable and display their attractiveness.
And if you plan to use marble, granite, or other luxury materials, or want to include high-end solutions in the project, 3D rendering will let you showcase these elements in a convincing and vivid way. The same goes for the surrounding natural beauties or appealing nearby areas.
In the end, quality rendering might prove a deciding factor in how quickly the project gets approved.
Benefit #3. Displaying Property Before Construction
Creating a presentation once a property's finished is an easy task. All it takes is to make beautiful photos and videos that show a building in all its glory and the job's done. 
But when rendering a project in 3D, you can display the entire thing in astonishing detail at any stage of construction. In fact, you can create the presentation before the work has started.
Buyers can learn and see everything in the project and even take a virtual tour through a property that has yet to exist. They can look at the floor layout, project specifications, examples of materials used, and much more. 
Another benefit of these digital displays lies in the previously mentioned ease of sharing. Investors from abroad can tour their future pieces of real estate online, even though they might be in a different country or on another continent.
Benefit #4. More Effective Marketing
Compared to traditional photos or 2D animations, 3D renders are much more captivating and interactive, which gives them incredible marketing potential. By attracting the attention of more buyers, 3D images can significantly increase ROI in marketing and help speed up sales.
Apart from 3D presentations and virtual tours, these renderings are versatile in that their snapshots can be printed for traditional marketing media, like billboards, mailers, magazines, and other outlets.
Of course, as with all other forms of digital media, all of the 3D material is suitable for online publishing. A 3D render, along with accompanying videos, animations, plans, and blueprints, is ready for posting on select internet platforms.
In effect, the project can become available on places like websites and social media and be used for digital marketing campaigns with ease.
Benefit #5. Greater Reach
The effective marketing that comes with 3D technology also includes greater reach. Because 3D renders are so versatile as marketing media, adapting them to different tactics for different target buyers is relatively straightforward. 
This aspect of 3D presentations makes them crucial in reaching various target audiences. After all, the marketing approach will differ quite a bit when approaching retiree buyers as opposed to millennials, for example. 
In particular, millennials are more likely to use mobile devices as a source of information. According to a survey by the Pew Research Center, 9 out of 10 Millennials use smartphones. Furthermore, the vast majority of these users do their research online and 28% of them surf the web on their phones exclusively.
This data shows that millennials are likely to be more responsive to digital marketing while traditional techniques will not engage them as much. In this case, 3D technology will have the upper hand since it's easily translatable into mobile-friendly dynamic content that can be shared online.
But this doesn't mean that the less digital-savvy audience will be left out.
As mentioned, 3D renderings can be transformed into more traditional photo material, broadening the scope of audiences the marketing campaign will be able to reach. While various elements of a 3D display will be at home in an online environment, you'll have no issues adapting them to an audience that's less keen on the digital world.
Bringing Your Projects to Life with 3D Renders
The success of a home-building project depends on many factors, of which presentation is one of the most important. Regardless of how convincing it can be to tell buyers about specific features of their future home or show them concept images or photos, 3D renders will leave a stronger impression in most cases.
This technology allows for faster and easier communication of complex ideas related to the project, making everything from textures and materials to the surrounding area pop right in front of the buyer's eyes. 
The marketing aspect of 3D presentations plays a vital role as well, as it provides a great variety of marketing options, broadening the campaign reach.
As a part of your catalogue, 3D renders will be a step in the right direction that will make planning and selling properties less complicated and much smoother.
Archistar Homes allows you to compliantly site your entire home catalogue in 3D. This is ideal for bringing your home designs to life to showcase to prospective home buyers.
Get started for free: [https://www.archistar.ai/] to see how Archistar Homes can help reduce your cancellations and empower your sales team.