Not sure about the potential profitability of your next project? Check out how to streamline your feasibility study and assess the pros and cons.
You always have to know every detail with every real estate development project. No matter how good an idea looks on paper, understand that it might not be as feasible as you may have thought.
The only real way to determine if you should pull the trigger on a project is to conduct a feasibility study.
This analysis takes into account a variety of factors that influence the outcome of a project. It looks at demographics, legal concerns, competition, and any economic and technical problems you should know about.
The ultimate goal of such a study is to provide clear insights into the potential of a development deal. 
Now, this isn't something you can slap together without appropriate support. Experienced developers always use the best property development feasibility tools at their disposal.
You have to do extensive market research to get the most accurate information. Fortunately, there are specialised software tools to make your job easier and help you get your feasibility report faster.
You'll have more time to spend on finding and executing lucrative development projects as a result.
So let's take a look at some of the top tools in the industry that you can use to evaluate the potential of your project.
Top 4 Property Development Feasibility Tools
#1. Excel
Any feasibility study will turn up a wealth of information regarding legal requirements and market and on-site data. But to make good decisions based on what you uncover, you have to keep track of all the information. 
This is where Excel comes in very handy. It's an excellent tool for tracking and monitoring extensive data sets. 
Creating comprehensive spreadsheets is just as important as doing market research. And with Excel, you can keep track of construction and certification costs, to start with. You can also map out your projected revenue. 
A spreadsheet can also help you assess other spendings, such as utilities and taxes. And if you're a new developer, you can even access hundreds of pre-made templates that map out everything you need to know.
It's all about aggregating all the information necessary to understand if you're looking at a viable project.
On the flip side, the problem that some developers have with Excel is that they still need to do their own research.
It's still a fantastic tool for tracking and monitoring data, but if you have in mind property development feasibility tools that can do the leg work for you, check out the following three alternatives.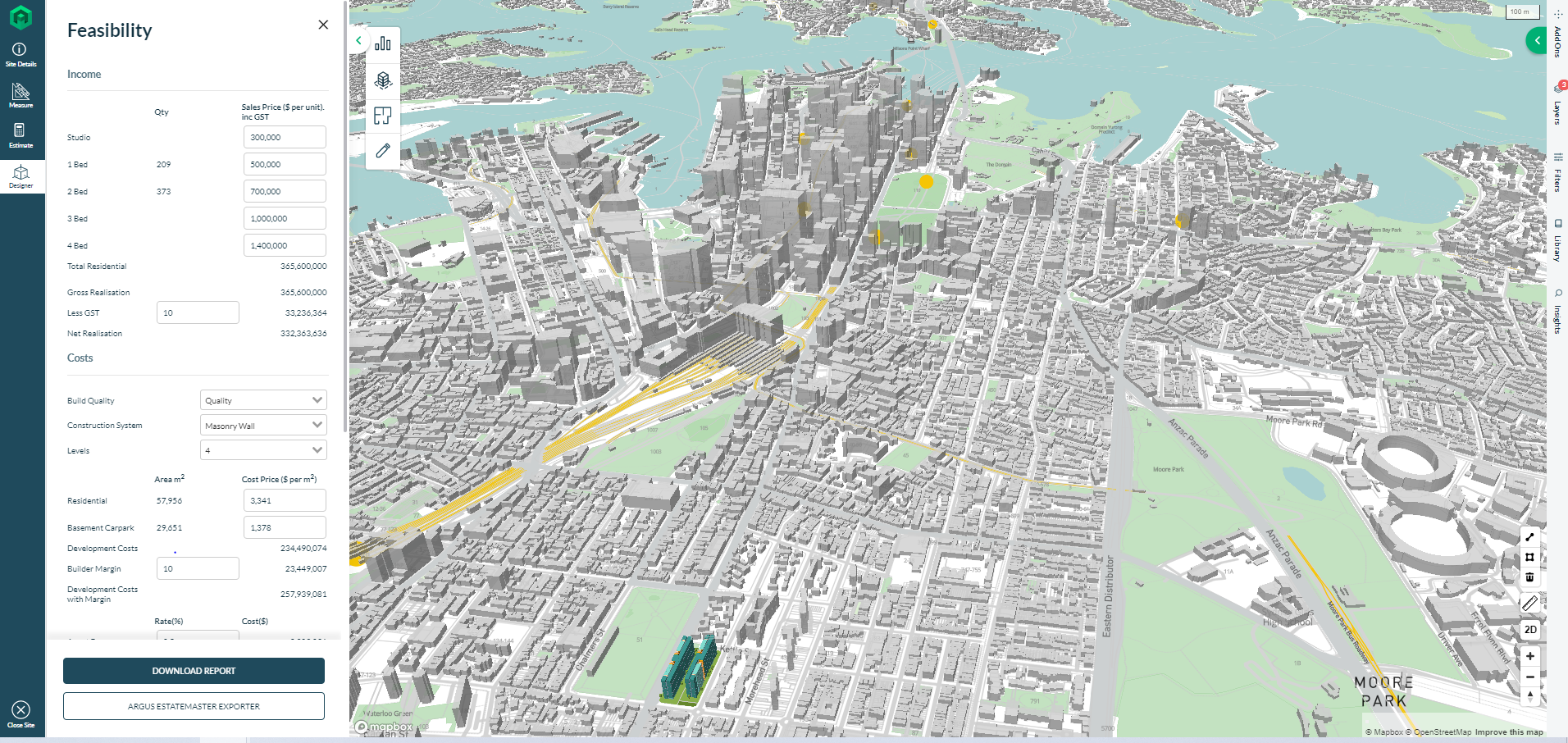 #2. Archistar
Archistar is a software solution that leverages the power of AI to deliver fast and accurate results. As one of the top property development feasibility tools, it can take care of many planning details for you.
The platform can return numerous sites that have development potential across Australia and help you identify the most promising. The latter is accomplished with the complex filters, data layers and due diligence reporting features available.
Archistar pulls its data from the top property data providers in Australia to increase the accuracy of the reports. You can use then Archistar to get into more detail, such as the surroundings and the local context of a site that interests you.
Furthermore, you can also use the software to create estimates in a fraction of the time it would take you manually.
Archistar makes it easy to perform advanced analyses and feasibility studies. It gives you the option of testing multiple scenarios or working around varied planning rules.
What ultimately makes it so accurate and efficient is the use of AI technology to streamline the manipulation of multiple variables.
The platform uses sales data from CoreLogic RP Data, Domain and Commercial Real Estate among others. You can think of Archistar as a collection of third-party expert consultants that can give you the answers sought in record time. 
And since it can generate detailed reports, you wouldn't have to use another software package for record-keeping.
#3. Estate Master
Another tool that can help you improve the accuracy of your feasibility studies is Estate Master. 
It's the kind of resource that allows you to account for hypothetical scenarios – some standard and some may just be troubling you for whatever reason. You can resolve your feasibility concerns with it, which also does a good job of evaluating residual land value.
Estate Master also helps with KPI forecasting and appraisal opportunities in commercial, residential, and retail projects. To top things off, it generates industry-recognised study reports.
Once you become a member, you can access a series of its key features.
#4. Lead Developer
Lead Developer is a property development feasibility suite that can generate comprehensive reports. It also offers a wide degree of customisation and delivers a long list of decision metrics.
You can use this tool to perform construction cost calculations and sale value estimates, as well as research financing and refinancing options for your project.
The main focus of this software is to help you understand your numbers. That's why it's as much of use to investors as it is to contractors and even real estate agents.
If you don't have your own resources or research team, Lead Developer can give you the confidence needed to proceed with or discard a project under consideration.
Supercharge Your Development Process with the Right Tools
Any feasibility study essentially helps you weigh the pros and cons of developing on a particular site. It helps account for everything from the land value and material costs to taxes and potential rental income.
Feasibility studies aren't mandatory by any means. But the fact is that few, if any, developers can afford to break ground on a new project without one.
Fortunately, there exist property development feasibility tools that can take out all the guesswork and help you make informed decisions with your money and maximise your ROI.
Get started for free: [https://www.archistar.ai/]
If you want to get ahead of the competition, you should definitely use the right tools. and find out how you can leverage the power of complex analysis, AI-driven simulations, and accurate estimates. Get the confidence needed to move forward with your dream projects.