A health crisis can quickly change the status quo in any industry. And history shows us that this isn't the first time it's happened in real estate.
In the early 20th century, tuberculosis was a constant health concern. While medical advancements at the time were the primary means to fight the disease, there was another trend that emerged as a result of the situation.
The architecture in some buildings was fashioned to serve as a medical instrument. 
A good example of this is what Finish architect Hugo Alvar Henrik Aalto designed, the Paimio Sanatorium in southwest Finland. 
The building's main purpose was to house and treat tuberculosis patients. Aalto's goal was to give the structure a design that would help people heal faster. As such, the building featured expansive windows, a massive terrace, and light-coloured rooms. Aalto intended to invite more light into the Paimio Sanatorium. 
He wanted ceiling colours that would promote serenity and quietness. Also, he also called for heating systems that would focus on the patient's feet. Everything about the layout was envisioned as part of the cure and designed with tuberculosis symptoms in mind.
Why is a story from nearly a century ago important today? 
It's because now we face a different health crisis – COVID-19. 
The disease that's on everyone's mind is reminiscent of how tuberculosis informed the architecture and property development at the beginning of the last century. In fact, there are several examples of how this is already a common trend that may last for years to come.
Five Key Changes
Change #1. The Use of PropTech
First, let's define the term PropTech. In many ways, it's fintech for real estate. It refers to using disruptive technology that can improve how people rent, sell, design, develop, and manage real estate.
In recent years, decades even, PropTech was nowhere as popular as fintech. But COVID changed this as more real estate developers and engineers shifted their business models towards new technologies. 
COVID made it challenging to engage in the same type of social interaction. These days, a no-touch experience and social distancing is the norm. Due to this, the digital experience is preferred by buyers, sellers, and developers.
PropTech offers many benefits in this area. 
For starters, it's the primary source for things such as automated elevators and automated access control systems.
AR and VR allow real estate agents to showcase their listings while adhering to social distancing guidelines. Simultaneously, these technologies can also assist architects and engineers in doing more remote than on-site work.
Chatbots and voice support have helped revolutionise the industry, while digital management systems further enabled interactions without physical contact.
Change #2. Sanitation Zones
Transition zones aren't anything new. 
But due to COVID's impact, you can see the increased popularity of designing sanitised transition zones in far more commercial and residential properties. These areas are often designated for storing shoes, hanging clothes, and getting one's hands sanitised. 
One of the similarities between the various types of sanitation zones is the use of easy-to-clean surfaces.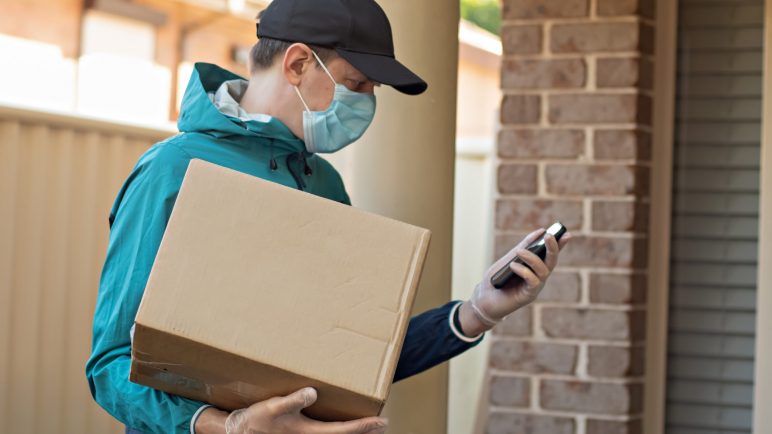 Change #3. Contactless Drop-Off Zones
Online shopping was well on the rise even before COVID. However, lockdowns and the imminent threat of the highly contagious disease have made online shopping pretty much the norm.
People want to feel and stay safe. Therefore, even physical contact during delivery is no longer preferred. Thus, new developments take into account secure and contactless drop-off areas in the layout planning.
Many existing commercial and residential properties will soon undergo changes to accommodate these new demands. Secure package deliveries and no-contact drop-offs may even become the future standard for all online shopping experiences. 
Change #4. Interior Layout Changes
This is another aspect of property development that is constantly adapting to the market's needs. Like in the 20th century, people now need and want different interiors to help them cope with COVID and social distancing.
Consider the fact that remote work is definitely here to stay. After all, many people may not want to go back to the office if their homes can accommodate the work from home lifestyle.
Most buyers and property investors are also now looking for flexible interiors. They want open-plan living layouts with the option for privacy. And from a development standpoint, you should expect to work with the same spatial restrictions and floor footprint.
However, new enhancements may become necessary to accommodate clients. For instance, multipurpose rooms and moving walls are fast becoming a trend in remote workers who need to participate in video conferences even at home.
Acoustic separation is another must-have in remote working scenarios. Even smaller homes demand proper adjustments. Ideally, you'll want to minimise wasted space and come up with clever ways to increase natural light while optimising storage solutions.
To put it plainly – homes have to be more versatile as each area may have to serve multiple purposes.
Change #5. Pet-Friendly Developments
The lockdowns and social distancing guidelines caused many people to feel isolated. Some actually had to be confined away from family and friends for long periods of time. It resulted in a decreased rate of pet abandonment, as many dealt with their loneliness by taking care of pets.
If this wasn't a major concern before, we should see an increased demand for pet-friendly developments moving forward. New properties might need more flexibility regarding restrictions for a wide range of animals of different sizes.
Designing the Future with Safety and Flexibility in Mind
The effect of COVID on property developers was two-fold. 
In a way, certain layouts became undesirable and the corresponding changes became necessary to please the market. However, it also gave developers, engineers, and architects a push to broaden their imagination and devise new solutions for new problems.
Things are unlikely to change much or revert to pre-COVID standards, even when the crisis ends eventually. People are now more health-conscious than ever, which shows up even in their real estate preferences. Many safety standards will likely remain for decades to come, so everyone in the industry must adapt.
This latest health crisis served to help the real estate industry soar to new heights. It was the catalyst required to innovate and bring the industry into the future through digitalisation, problem-solving designs, and sustainability, even for the smallest properties.
Get started for free: [https://www.archistar.ai/] to give your company a head start.
With Archistar, you can conduct all of your site research and assess a site's feasibility within a few minutes. By toggling with measurements or applying street frontage layers, there is no need to physically visit a potential site. You can visualise sites from a birds-eye view using our Nearmap aerial imagery add-on to get a better understanding of a site's surroundings. Generate designs and use our building analytics to gain insight into a building's sunlight hours.