Technology is changing the real estate market. Learn about the incredible tools you can use to market and sell properties better.
Much like other industries, the property industry has begun leveraging technology in different ways.
In particular, virtual reality (VR) and augmented reality (AR) are both technological tools that can help you market and sell properties in a faster and more efficient manner.
These tools use the same type of technology that allows users to experience detailed virtual environments. VRs require users to put on a headset or a similar device that allows them to see and hear what happens in a virtual environment – as if they are actually there.
AR technology does the same thing, but it uses real-world settings. This is done through apps that can be downloaded on mobile devices.
While VR and AR have been around for quite some time, it was only during the pandemic that their use became more prominent.
Since in-person walkthroughs weren't allowed, property agents and developers had to find a way to keep selling properties. They turned to technology to give people remote access to properties for sale.
VR and AR were the perfect tools for the job.
Companies like Rentberry, Engel & Völkers, Halstead Properties, and Sotheby's have also started using this technology to stay ahead of the competition.
Property developers can do the same.
To find out how, keep reading. You'll know more about the role of VR and AR tools in the real estate industry and how they can help property developers like you market and sell more properties. 
The Role of VR and AR Tools in the Real Estate Industry
According to the data published by Goldman Sachs, it's expected that the VR market will be worth $80 billion by 2025. And $2.6 billion of that will be coming from the property market.
After all, more and more property experts are seeing the value of VR and AR tools in selling real estate properties.
While traditional marketing methods worked well in the past, the emergence of VR and AR technologies made us realise how restricting it all was. It's because the traditional way only makes property viewing available to those who were willing to travel to the site.
Although websites and photos became available for remote viewers, they didn't give the real feel of the property.
But with VR and AR tools, experts have seen a rise in home buyers who made an offer for a property even without seeing it in real life.
So, how does this happen?
VR and AR use smart software programs like Snaploader, Vera, Real AR, and Magic Plans to stitch photos together and provide a 360-degree view of a property. This allows virtual viewings where users can click on different points of a property so they'll be transported to that particular area.
These technologies also allow virtual walkthroughs with property agents so they can answer queries in real-time.
VR and AR can also do virtual property staging where agents can present a property in its fully furnished state. This makes it easier for potential buyers to see how the property will appear when it's fully furnished.
But that's not the only thing that VR and AR tools can do.
They can also do building information modelling or BIM. This is useful for property developers because it helps them visualise the layout of a new project. It can show potential buyers what the finished property will look like in different versions. So, they can do a walkthrough even if the construction process hasn't started yet.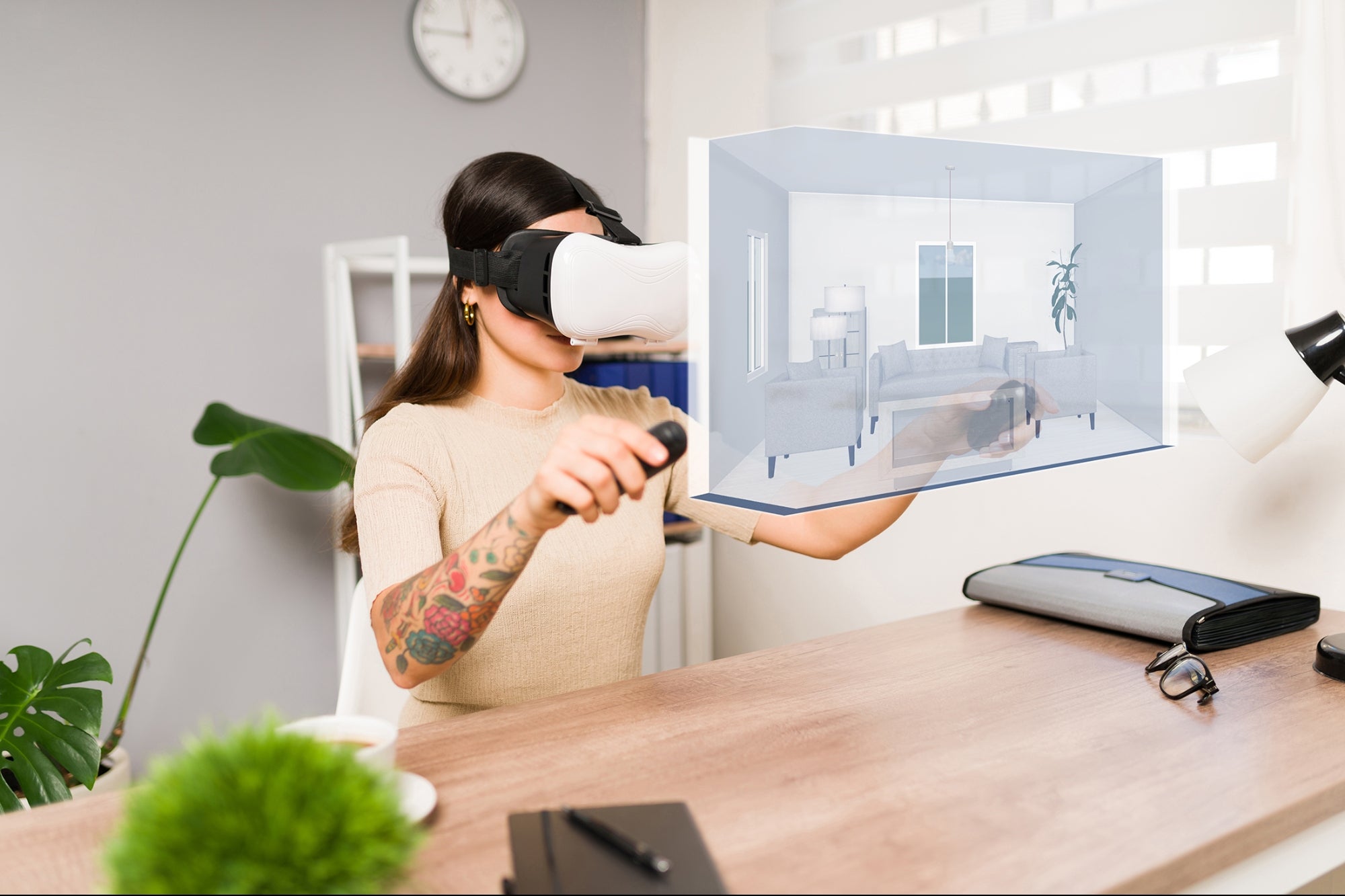 Tips for Property Developers Using VR and AR Tools
To leverage this technology, here are some key things to keep in mind:
If you want to start using VR and AR tools to sell your finished property developments, you need to be open-minded.

It's because there are many real estate tech tools, and some of them can make you feel uncomfortable – especially if you're used to doing things the traditional way. But you have to accept that technology is here. And you need to adapt if you want to stay competitive.

Once you've decided to use VR and AR, keep your target buyers in mind.

The way you leverage these tools should depend on who you're marketing to.

When using either VR or AR technology, don't be restricted by one strategy.

Remember that residential property buyers will have different concerns compared to commercial property buyers, for example. So, you'll need to adapt to their needs.

Plan and strategise so you'll be ready with different presentations.

You have to be creative when you present the property that you're selling so you can get an offer out of it.
With the right tool, you can highlight the strengths of your property development that your diverse customer base would want to see.
There are tools like Snaploader that offer a wide range of options to create emotional 3D experiences for different buyers. One of its features is the Snaploader Touchtable. It's a turn-key digital marketing tool that'll help you sell planned projects. This is because it gives 360 panoramic tours of the property's design and video fly-throughs so clients can see and feel what the planned project will look like in the end.
Get Ready for the Future of Real Estate
Using technology in real estate is a must if you want to market and sell more properties. While traditional methods still work, you have to be open to the new possibilities that virtual and augmented reality tools can offer.
Snaploader is one of the tools that you can use. It's reinventing the way real estate agents and developers showcase properties through the use of 3D visualisation. Try and find out why it's one of the preferred tools by property developers in the market today.
Get started for free: [https://www.archistar.ai/]