Strengthening Digitalisation in Urban Development
Technology and urban development are becoming more and more inseparable by the day. Learn how to maximise tech for your development projects.
Air quality monitoring.
Contactless meters. 
Autonomous drones.
These are just some of the tech tools that have helped governments and private sector players develop smart builds, or development projects that are customer-centric, efficient, and sustainable. 
Indeed, the Internet of Things is continuously accelerating the rise of smart cities. Most of these technologies are practically invisible, albeit incredibly beneficial to the general population. 
Property developers, however, need to be abreast with all the latest tech so as not to get left behind amid the ever-changing way cities function.
This article talks about everything project developers need to know about maximising tech for their next development projects. It also explores how using digital solutions can help them sell homes faster.
The Role of Tech in Urbanisation
The negative impact of urbanisation on the environment has been widely documented.
In China, urban areas have eight times more washing machines and 25 times more refrigerators than rural areas. In the U.S., the car-to-person ratio is a staggering 1:2. And all over the world, urban areas consume about 75% of the global energy supply. 
Naturally, such things negatively impact the environment.
However, the recent global policy has shifted towards environmental protection. This has spurred massive reversals to the environmental degradation caused by urbanisation.
Los Angeles has dramatically reduced air pollution. 
Canberra now heavily relies on solar and wind farms to fuel the city.
And in Copenhagen, the world's first building project has been developed to align with every single one of the UN's Sustainable Development Goals (SDGs). 
But what do all these smart, sustainable cities have in common? 
It's innovative, AI-powered, data-driven planning – all powered by advanced technology. 
The UN17 village, for instance, utilises AI software to assess design proposals and make sure all approved developments meet SDG requirements for high-quality living.
Here's an example of how digital urban development is integrated into the village:
Through 3D visualisations, the village checks design proposals submitted by architects for, say, studio apartments. Bearing in mind requirements like beautiful views and sufficient daylight, digital tools are used to analyse the proposals and generate suggestions to improve the current design proposal.
Such is the important role tech plays in developing projects in urban centres. Without tech tools, this analysis of design proposals would be manual and would thus take up a lot more time, not to mention incur extra costs. Even then, it might not be as accurate as what digital tools and smart infrastructure could provide. 
Hence, the push for a stronger digitalisation of built environments.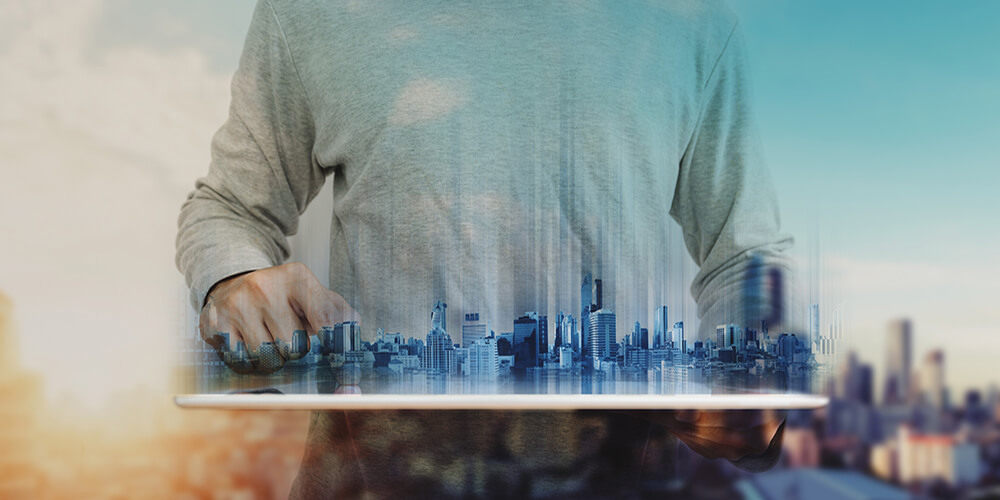 Digitalisation in Urban Development
Australia's Smart City plan has been in action since 2017. 
That's why the government continuously incentivises the use of Information Communication Technologies (ICT). To be precise, it aims to ramp up social, cultural, and urban development in the country. 
For instance, Newcastle has transformed from being a "safe city" to being a smart city. Artificial intelligence and data analysis are incorporated into daily life through smart surveillance, smart parking, and Wi-Fi everywhere. 
Melbourne, hailed as the world's most liveable city for six years, has likewise been geared towards smart and sustainable living. With the integration of automation and digitisation across most industries, new businesses are able to create new, high-paying jobs while making menial, low-paying jobs obsolete. 
Emerging technologies have likewise found their way to real estate markets. Big data, GIS mapping software, and blockchain technology have made innovations in the acquisition, development, and planning of property projects possible.
Generally, the push is towards future-ready cities. 
And it's not difficult to see why this has been the trend not just in Australia but across the globe. After all, smart cities attract and retain top-notch talent and organisations, which leads to more jobs for locals and a stronger support system for the local economy. 
The formula is simple: 
Growth of the digital economy = growth of the economy in general.
This is why developers must work fast to figure out how they can incorporate existing and emerging tech advancements into their processes and operations, may it be in property management, construction, and even sales.
Step Into the Future
The presence and impact of technology in urban development will only grow from here, as it becomes more powerful and widespread. 
Cities around the world are now moving towards incentivising smart and sustainable living. With that, the onus falls on property developers to step into the future and up their game as far as digitalisation goes. 
Now, if you want to see how you can harness technology in your next projects, you might want to check out Archistar. The platform features a wide range of AI tools and services at your disposal. From 3D modelling, project assessment, and actual building design, Archistar can help you sell smart, sustainable, and efficient homes faster.
So, schedule a free demo with us today.