Renovation and addition projects don't have to be difficult. Learn about the criteria and types of work you can do as a property developer without applying for a permit.
Interested in doing some renovation work? Maybe you're thinking about adding an extension to an existing property to increase its functionality and market value.
If you have such plans, you're probably concerned with the tedious process of applying for permits. The paperwork, reviewing the plan, getting the signatures, the money you'll need to spend – these are things that property developers typically don't enjoy dealing with.
But what if you didn't have to deal with so much bureaucracy?
What if, with a few minor adjustments, you can complete your project under a permitted development grant and save yourself some hassle?
This article will go over what permitted development rights are and when you can or can't use them to your advantage.
What Are Permitted Developments?
Permitted developments allow homeowners and property developers to perform particular types of work without going through the hoops of getting planning permissions from the local council.
Building work and certain types of changes may be carried out without planning permission, but only if they meet some criteria set by a local council. Keep in mind that permitted developments may also include both interior and exterior property projects. 
While it takes some time to research the kind of work you can do without planning permission, it's crucial to find out the regulations in your area.
In most cases, permitted development rights allow homeowners or developers to save precious time and a lot of money if their renovation or extension projects qualify for permitted development rights.
It's worth noting that while most houses feature permitted development rights, not all buildings do. That's why checking with the local council or talking to an expert is highly recommended before proceeding with the work.
Failing to verify if your project qualifies could have devastating effects. Your local council can compel you to undo all the work you've done thus far, which won't be cheap.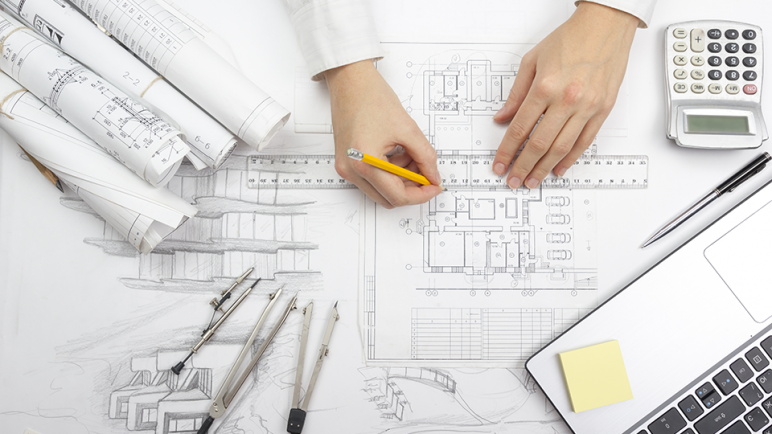 What Types of Developments Are Permitted?
Before going into more detail about the types of permitted development, here's a short list to give you a general idea of the kind of work that is usually classified as permitted and doesn't require planning permissions:
A small extension

Change of use

Adding new doors

Building a small porch

Installing solar panels or satellite dishes

Garage conversions

Basement conversions
As you can see, the permitted developments category casts a pretty wide net. That means many property modifications and additions can be made without going through a gruelling and expensive application process.
With that in mind, let's go over some criteria.
When dealing with extensions, you're usually fine if the finished project won't occupy over half of the land around the original property. Do note that your extension can't be forward of the main portion of the property if you want to build it without a planning application.
Furthermore, extensions that aren't higher than the roof's tallest point also fall under the permitted development category.
Single- and two-storey extensions are a bit more specific. With the former, you must ensure that the extension won't go over 3 meters beyond the back wall of the main house for attached properties. With unattached properties, the limit goes up to 4 meters.
As for height, it should be less than 4 meters. While the width must be, at most, half that of the existing property.
With two-storey extensions, you can also build under permitted development rights. But in most cases, that implies extending, at most, 3 meters beyond the back wall of the original property and staying within 7 meters from the property's rear boundary.
Permitted development rights may account for materials, too. For example, using materials matching those of the existing structure can make your project qualify for a permitted development rights.
As a general rule, additions and extensions can't take up 50% or more of the remaining available land on the property after deducting the original property's footprint. 
Then, you have different kinds of modifications and improvements. Homeowners or developers can repave a front garden without applying for a permit when using porous material, for example. 
Enhancements such as changing windows, repainting the walls, or even adding a skylight can be done without applying for a permit. But only as long as the building isn't listed or located in a conservation area.
Keep in mind that some temporary extensions or improvements are allowed without a planning permission application. 
A great example of this is installing a wind turbine. You can put up a temporary one, with the deadline to take it down depending on your local council. But if you were to make it a permanent installation, you would need to get planning consent.
Most of what you can do regarding indoor work falls under permitted development, except for taking down resistance walls. But any other renovation, modernisation, and beautification projects should be smooth-sailing for any homeowner or developer.
Note that permitted development guidelines can change frequently. They can also differ between territories and municipalities. So, it's essential to check for updates with the local planning council.
Where Might My Permitted Developments Rights Be Restricted?
There are a couple of scenarios you can run into where you'll need to apply for a permit to build. Balconies, verandas, and raised platforms are almost never covered under permitted developments.
Furthermore, the location and the status of a property can also play a role here. Work done in conservation areas or national parks isn't covered under permitted development rights. The same thing applies to World Heritage sites and even areas of outstanding natural beauty.
You could even find yourself requiring a permit to remove trees if they're protected by a preservation order. 
Use Archistar to Find Permitted Developments Sites
Overall, permitted development isn't difficult to navigate. But it can have very specific guidelines and restrictions.
Checking with the local council is the best way to stay informed and learn how you can adapt your plan to qualify for this type of grant. Doing your due diligence can lead to more manageable and cheaper renovation and beautification projects.
When you need to find regulations regarding a site based on particular needs, you'll often waste time resorting to traditional research methods. Fortunately, the Archistar platform offers a modern and efficient approach to research Australia's largest planning and zoning database. 
Book a demo of the Archistar software to find sites and see where and what you can build. You can filter by permitted type, including duplexes, townhouses, apartments, mixed use, and more. Go even further and use our generative design tool to create concept building designs for townhouses, terrace houses, manors, subdivisions, duplex projects, and so much more.